Payment Methods
---
Our purchase site offers several ways how to proceed with a payment for licenses or our services. Please choose your preferred payment method and in case you will have difficulties feel free to contact us on [email protected] or try another payment method.
Payment gateway
Our Payment gateway allows you to quickly fill in your order and choose your preferred method of payment. You can use one of the following methods:
Direct payment with credit card
PayPal
Wire-transfer
Fill in your order details and to choose the payment method click on the button of your choice directly above the Buy now button.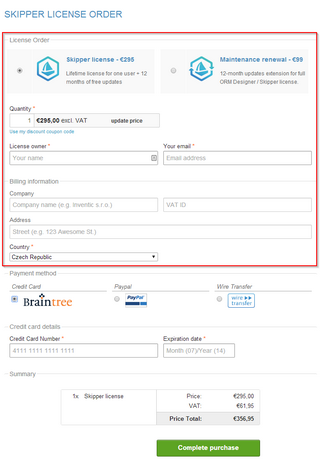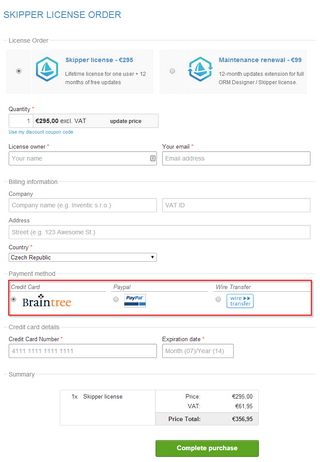 Credit card payment
Payment with credit card is the default option. Simply fill in your order and your credit card details.
Be advised that we do not keep any credit card information stored on our site, and that the transaction is secured by Braintree Payment Solutions.
PayPal payment method
Choosing PayPal option and then pressing Complete purchase will redirect you to the PayPal payment interface. PayPal accepts following payment types:
PayPal account
All common credit cards
You can use PayPal account by filling your credentials and pressing "Log In". In case you don't have a PayPal account and want to pay by credit card, click on Pay with my credit or debit card and afterwards fill in the required details.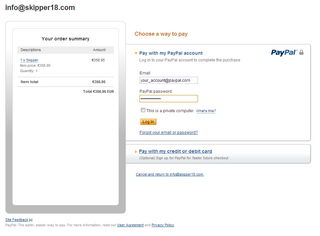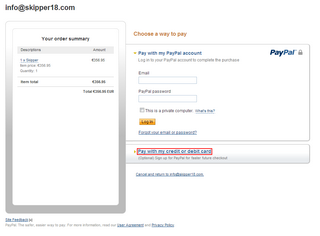 Wire-transfer
In case you don't want or can't use credit card or PayPal payment gateway, we also accept payment by wire transfer. For such situation we can prepare invoice for your payment. After we receive the payment, your license will be sent to your email. In case you will need temporary license for time period of wire-transfer, please let us know.
Our company and bank credentials are:
| Company | Bank |
| --- | --- |
| Inventic s.r.o. | IBAN: CZ94 0300 0000 0002 6442 0105 |
| Julianovske nam. 2 | BIC (SWIFT): CEKOCZPP |
| Brno - 636 00 |   |
| Czech Republic | VatID: CZ27693236 |